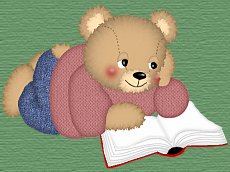 POETRY
WHAT WE SHARE
When we share laughter,
There's twice the fun;
When we share success,
We've surpassed what we've done.
When we share problems,
There's half the pain;
When we share tears,
A rainbow follows rain.
When we share dreams,
They become more real;
When we share secrets,
It's our hearts we reveal.
If we share a smile,
That's when our love shows;
If we share a hug,
That's when our love grows.
If we share with someone
On whom we depend,
That person is always
Family or friend.
And what draws us closer
And makes us all care,
Is not what we have,
But the things that we share
~Jill Wolf~

Is anybody happier because you passed this way?
Does anyone remember that you spoke to them today?
The day is almost over, and its toiling time is through.
Is there anyone to utter now a kindly word of you?
Can you say tonight in parting with the day that's slipping fast,
That you helped a single person of the many that you passed?
Is a single heart rejoicing over what you did or said?
Does the one whose hopes were fading now with courage look ahead?
Did you waste the day or use it? Was it well or sorely spent?
Did you leave a trail of kindness, or a scar of discontent?
As you close your eyes in slumber, do you think that God will say:
"You have earned one more tomorrow by what you did today?"
~Anonymous~

HEALED AND WHOLE
One day I dug a little hole
And put my hurt inside
I thought that I could just forget
I'd put it there to hide.
But that little hurt began to grow
I covered it every day
I couldn't leave it and go on
It seemed the price I had to pay.
My joy was gone, my heart was sad
Pain was all I knew.
My wounded soul enveloped me
Loving seemed too hard to do.
One day, while standing by my hole
I cried to God above
And said, "If You are really there --
They say, You're a God of Love!"
And just like that -- He was right there
And just put His arms around me
He wiped my tears, His hurting child
There was no safer place to be.
I told Him all about my hurt
I opened up my heart
He listened to each and every word
To every sordid part.
I dug down deep and got my hurt
I brushed the dirt away
And placed it in the Master's hand
And healing came that day.
He took the blackness of my soul
And set my spirit FREE!
Something beautiful began to grow
Where the hurt used to be.
And when I look at what has grown
Out of my tears and pain
I remember every day to give my hurts to Him
And never bury them again.
~Carol Parrott~

If The World Were Blind
If the world was blind, maybe then we'd see the true side of beauty, deep within you and me.
No one could judge us by our outer looks, like the fancy covers on expensive books.
We'd see with our hearts, and not just our eyes, and what we discover might be a surprise.
There would be no need to try to impress, with the way we look, or the way that we dress.
The only thing that would matter is the way we would feel, not phony or cheap, but truthful and real.
~Anonymous~

I don't know how to say it
But somehow it seems to me,
That maybe we are stationed
Where God wants us to be.
That the little place I'm filling
Is the reason for my birth,
And just to do the work I do
He sent me down to earth.
If God had wanted otherwise
I reckon He'd have made,
Me just a little different
Of a worse or better grade.
And since God knows and understands
All things on land and sea,
I fancy that He placed me here
Just where He wanted me.
And there isn't any service
I can give which I should scorn,
For it may be just the reason
God allowed that I be born!
~Anonymous~


Hiding In The Shadows
In life sometimes we lose our place,
And in our hearts we are left with just an empty space.
We only concentrate on the loneliness and pain,
And a glimpse of our reflection reveals a person ordinary and plain.
We forget about all the people's lives we have touched,
And instead think that our own life doesn't amount to much.
But it's amazing what the mind hides when the soul is lost,
And how many excuses to avoid achievement that we can exhaust.
For a person such as you harbors so much potential,
But in order for it to flourish self confidence is essential.
You possess charisma and compassion that is shared so freely,
And a radiant beauty that only you can not see.
And when the time comes and you finally appreciate who you are,
This will be the day the world inherits it's most brilliant star.
So my friend never lose yourself in another's shadow,
Let your own talents and abilities allow you to grow,
And that empty space in your heart will overflow.
~Anonymous~

Comes the Dawn
After a while you learn the subtle difference...
Between holding a hand and chaining a soul,...
And you learn that love doesn't mean leaning...
And company doesn't mean security....
And you begin to learn that kisses aren't contracts...
And presents aren't promises,
And you begin to accept your defeats with your head held up and your eyes open,...
With the grace of a woman, not the grief of a child...
And you learn to build all your roads on today because tomorrow's ground is too uncertain for plans, and...
Futures have a way of falling down in mid-flight.
After a while you learn that even sunshine burns if you get too much....
So you plant your own garden and decorate your own soul,
instead of waiting for someone to bring you flowers....
And you learn that you really can endure....
That you really are strong...
That you really have worth.
And you learn and learn....
With every goodbye you learn.
~Kara DiGiovanna~



Bear and flutter fairy from Karen's Korner



Email|Guestbook